February Astro High-Lights: The Astrology of the Month Ahead.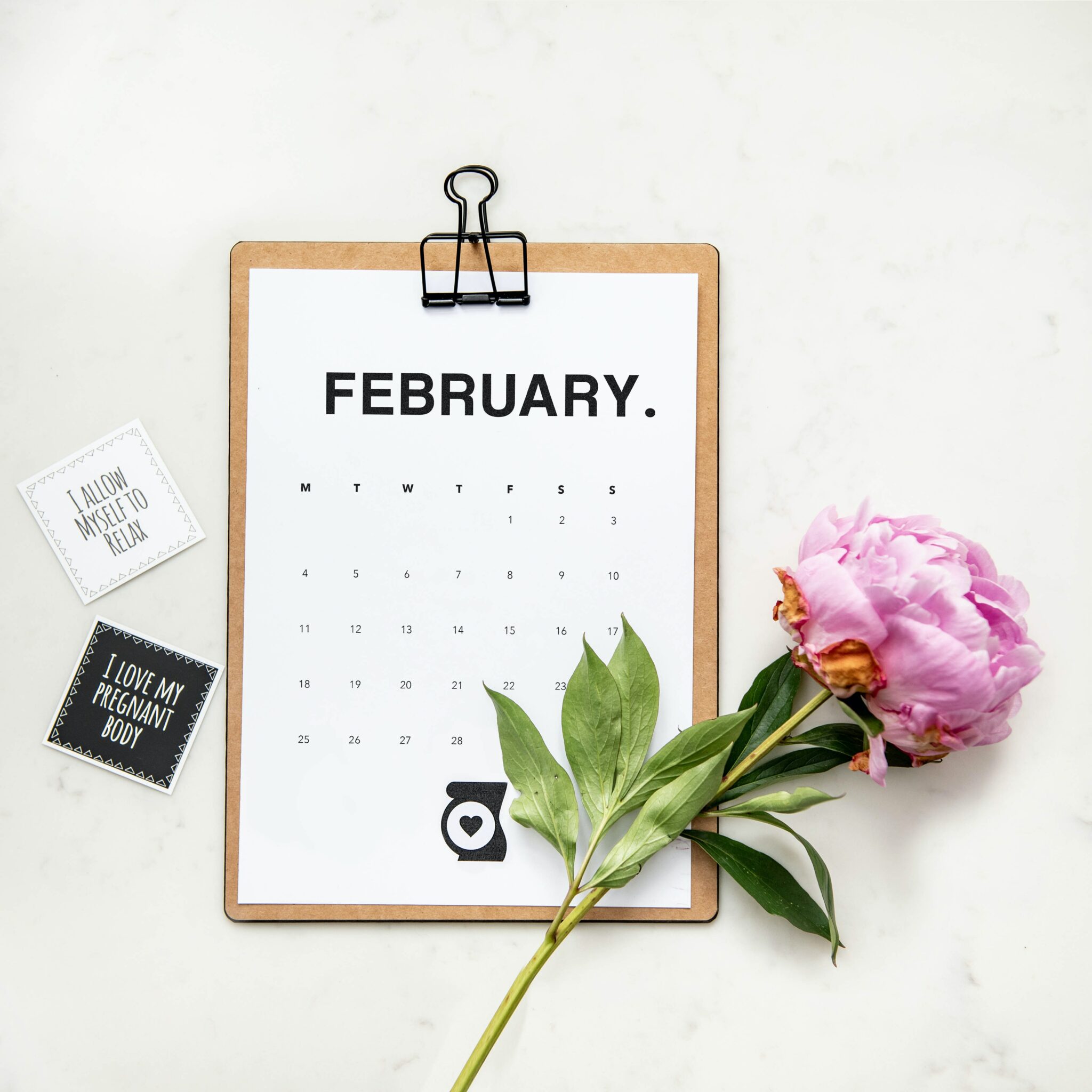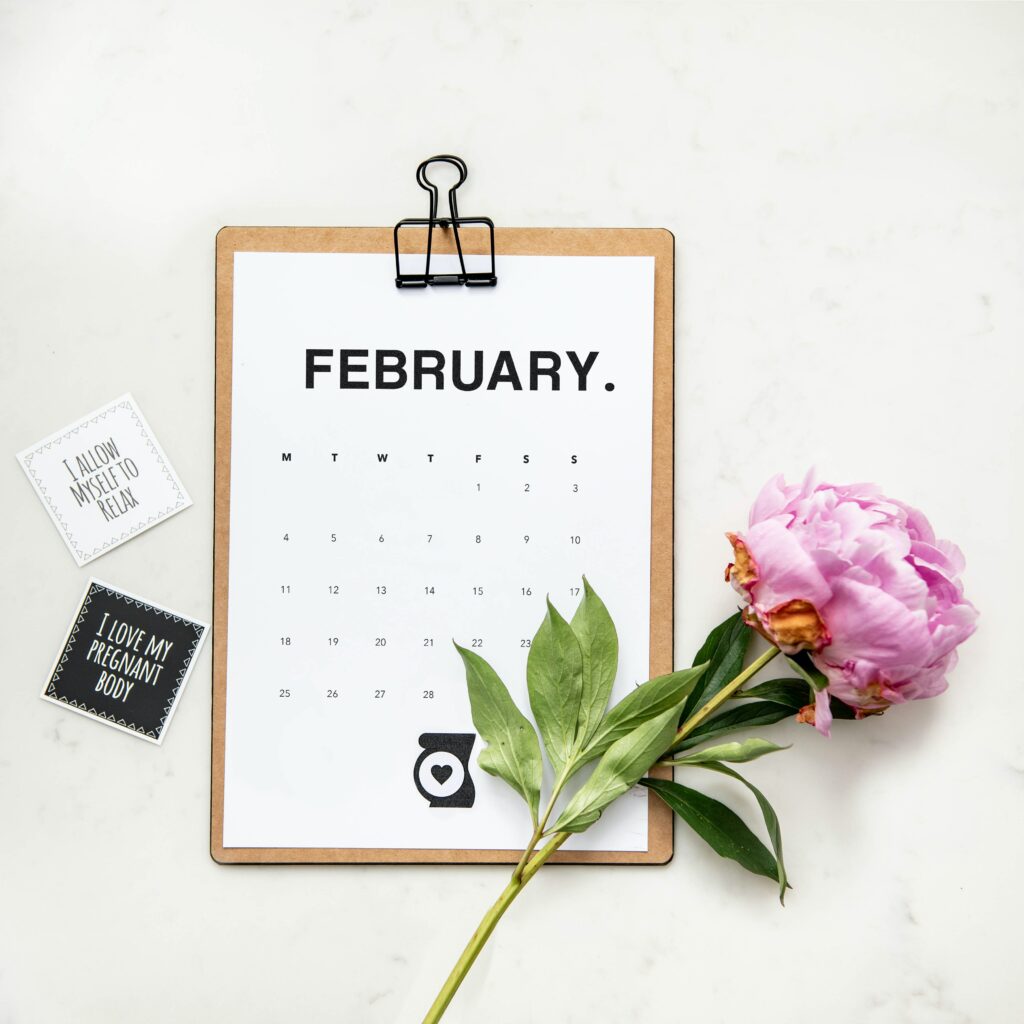 Photo by Emiliana Hall on Unsplash 
February derives its name from februum, which means "purification." And while it is the shortest month, it is special nevertheless, as we celebrate Valentine's Day smack in the middle. This year we have a special treat. Hugging Valentine's Day on both sides, (13-15 of February) we have a rare conjunction of Venus (planet of love) and her higher-octave, Neptune (divine love). This is rather unique and much needed good news since Venus is exalted in Pisces while Neptune is the ruler of Pisces, which means both planets are well disposed to emanate their positive aspects upon us and our enterprises. The conjunction of Venus and Neptune can bring love and romance into our lives, creativity, intuition, prophetic dreams, and direct conversation with our spiritual guides, angels, or whomever connects you to Oneness.
In addition, on February 5, we celebrate Tu Bishvat, which according to Jewish lore is the birthday of trees. It takes place on the Full Moon in Leo and is an opportune time to plant a physical tree or a mystical one aka Tree of Life, Bodhi Tree, and the like.
According to the great 16th century Kabbalist Isaac Luria (ARI), we each carry within us a divine spark, a seed, a genetic light marker, originated from the One. On Tu Bishavat that spark regerminates, helping us reconnect to the divine DNA within us. That spark can manifest as a talent, a gift, a skill, a bequest we must share with creation. That is the reason many Kabbalists eat nuts and seeds that symbolize that spark.
Below are the important dates to pay attention to in February (excerpts from my 2023 astrology book) You can also find these dates on my free downloadable calendar HERE
February 3 – 4 (Sun squares Uranus): This aspect can create discord between friends or within a company. Machines and electronic gadgets might break or act out in a rebellious way. You may feel chaotic and unorganized.
February 4 – 5 (Venus squares Mars): A tough start to the month dedicated to the goddess of fertility and marriage with this squaring of the feminine and masculine planets. You can expect some quarrels, arguments, and squabbles with your business or love partners. Be careful not to be dragged into other people's battles. You might be forced to take an action you would regret.
February 5 (Full Moon in Leo): A completion of something you started on the Chinese New Year's. There is an arrowhead forming with Uranus the chaotic fool. Be extra careful, haste is of the devil. You can expect some drama and people behaving over the top. However, there could be some unexpected creativity coming out of this lunation. See above, Tu Bishvat and the germinating of your divine spark takes place today.
February 6 – 8 (Mercury sextiles Neptune while Venus sextiles Uranus): A change in the weather forecast and the planets are having some chill time. Great days for channeling, dream work, and mediumship. A great day to return to dance, yoga, or any other type of movement. You will receive a great deal of messages from your higher-self or guardian angel. Venus is also introducing you to a unique new friend or colleague that can help you see things differently. Good days for anything digital and innovative.
February 8 (Vesta enters Aries until April 15): The holy virgin of the hearth is returning to a fire sign, and as the keeper of the ever-flame, she is all too happy to travel in this cardinal fire sign. You feel self-motivated, inspired to open new frontiers in your work or the way you serve. Work can pick up.
February 10 (Mercury conjuncts Pluto): Conversations with the beyond and the afterlife. Intense communication, interest in the occult, and words that can transform. Mercury can help you get deep insights into your personal or business life. Watch what you say, write, tweet, or post, the effect of your words can go deep and last long.
February 11 – March 2 (Mercury enters Aquarius): The winged messenger of the gods and goddesses soars up to the fixed air sign Aquarius where he loves to be. Communication of all sorts flow better. A great time to make new connections, find new friends, and join companies or organizations.
February 13 – 15 (Venus conjuncts Neptune): A gift for Valentine's Day. Venus and her higher octave, Neptune, bring about romance, imagination, and artistic expression, channeled from above. Don't buy Valentine's cards, make them yourself! Faith and art unite right as we celebrate the day of love and friendships. However, be careful of extra-marital affairs, the wondering eyes, or attracting addictive people in your life. Join me in person in Los Angeles or via Zoom on my special Valentine's Day Alchemy of Relationship workshops. Feb 13 7pmPST.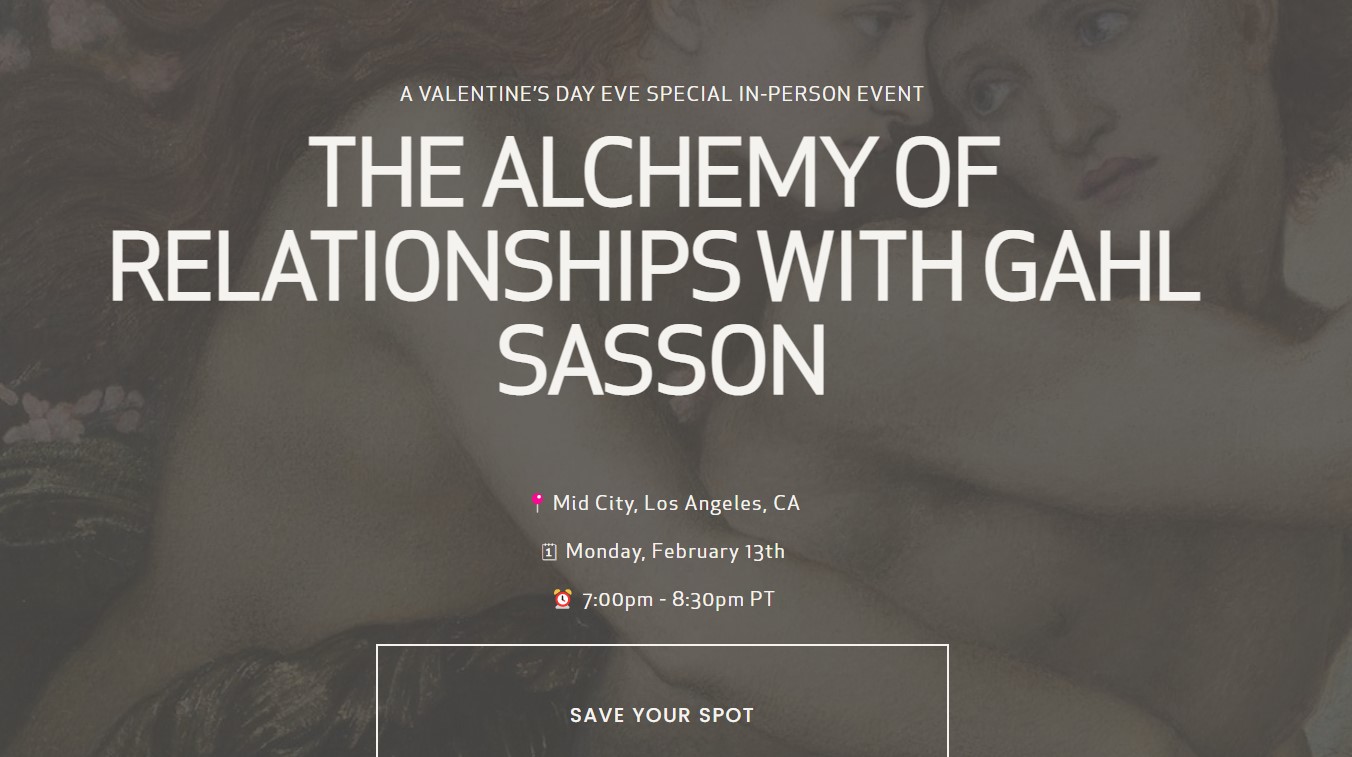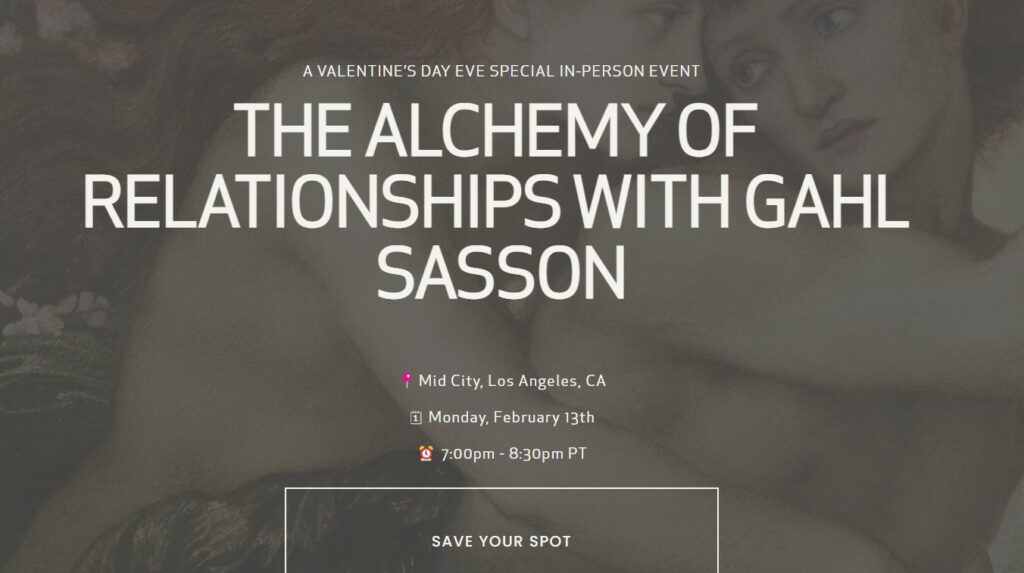 February 16 – 17 (Sun conjuncts Saturn): This aspect can manifest as issues with bosses, superiors, and father figures. You might feel heavier or a bit gloomy. It is a good time for serious planning as well as planting the seeds for long-term projects. There is an element of late blooming to what you start today.
February 18 (Sun enters Pisces): The water-bearer gives the torch to the Lady of Avalon of the sacred lake of Pisces and for the next 30 days we are all dolphins. Your dreams, intuition, empathy, and imagination flow effortlessly. A great month to ground your imagination, for photography, and working with colors.
February 20 (New Moon in Pisces): A new beginning involving mystical pursuits or any projects that benefit from imagination. A good time for healing, channeling, dreaming, and empathy. Spend time by or in water.
February 20 – March 16 (Venus in Aries): Venus needs to come out of the Pisces water, where she loves to be, wearing her bikini and baking in the Sun of Aries where she feels in exile. There could be some power struggles with your significant others. However, this Venus wants action, so it is a great time for physical activities with partners, leadership, and taking the initiative in finance and artistic projects.
February 21 – 23 (Mercury squares Uranus while Mercury trines Mars) Confusing days with challenges as well as helpful aspects. There could be an element of chaos and unpredictability since the trickster and the joker are at each other's throat. This could manifest as accidents, mishaps, increased Murphy's Laws incidents, and disruptions. However, on the 22 and 23 we have Mars coming to the rescue, bringing his passion and energy to Mercury. This can help with business, negotiations, marketing, sales, and writing. Sisters and brothers in arms come around you to support you on your path. 
Have a fabulous February full of sparking magic
gahl